Me and My Mission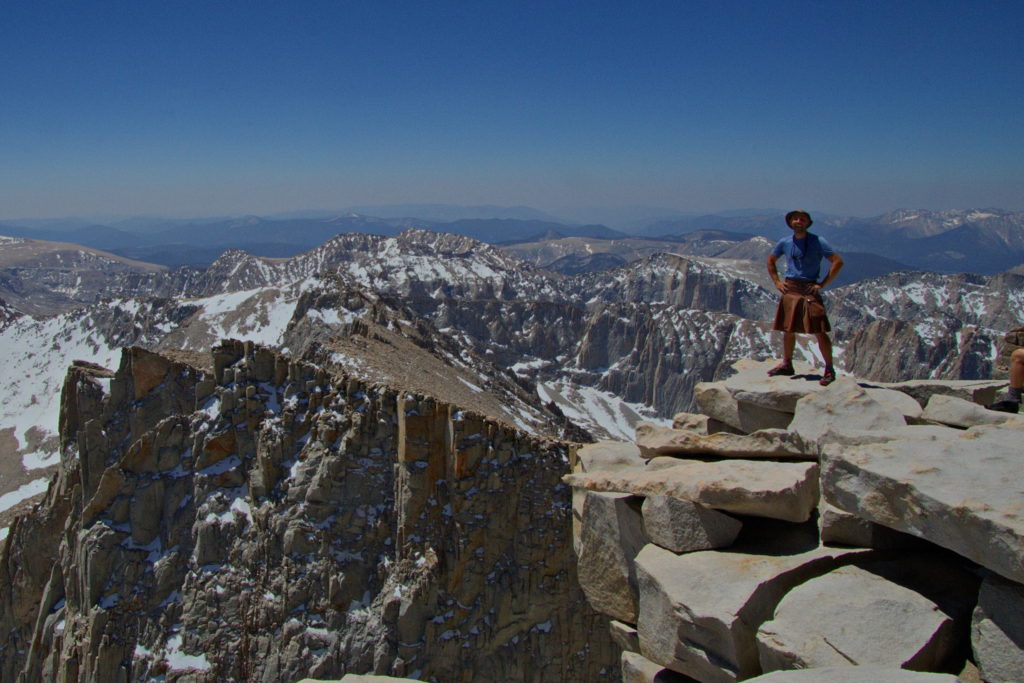 I am a photographer, adventurer, and backcountry guide who travels extensively, including more than 8000 miles of wilderness backpacking. I have thru-hiked the entirety of the Appalachian Trail, the Pacific Crest Trail, and the Continental Divide Trail, chronicling these experiences in thousands of photographs as well as social media posts and personal journals.
It is my personal mission to remind humanity that there are endless reasons to be in love with our incredible planet and all of the living things that inhabit it. I firmly believe that beauty is everywhere and that if you love something you will be moved to care for it. Through my photography, public speaking, workshops, and outdoor guide and consultation services I strive to help people see this beauty and fall deeply in love with the natural world.
Public Speaking and Workshops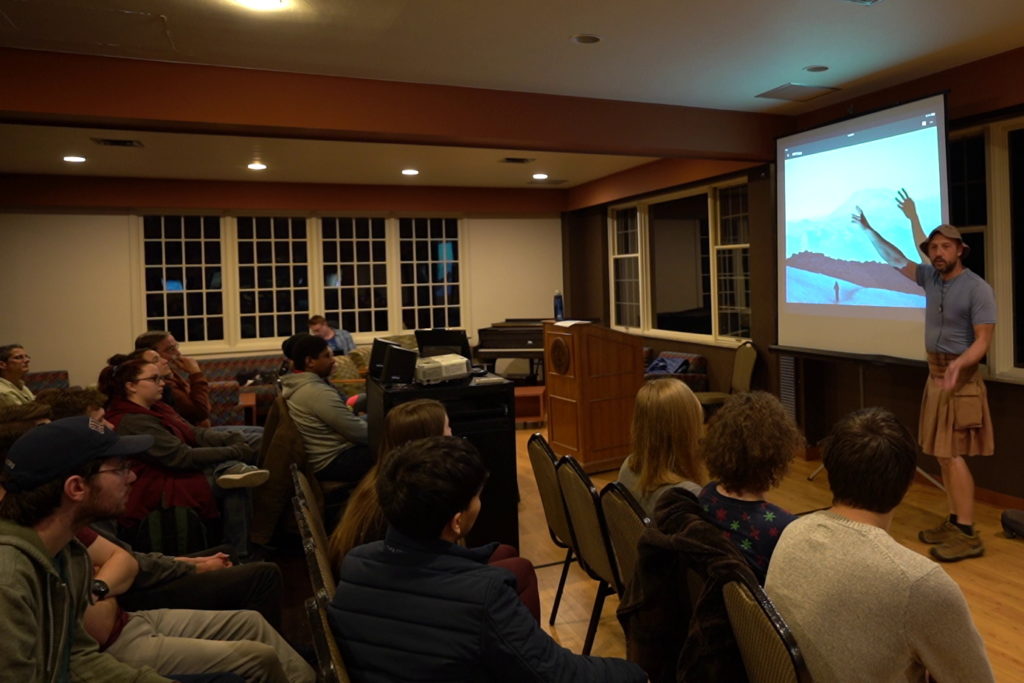 Some of the topics I discuss include: our connection to nature, long distance hiking, mindful use of technology, adventure and outdoor photography, photography as visual communication, and adventuring with presence and purpose. My approach is relaxed and conversational with humor, photos, and stories from my adventures.
Here are some samples:
This clip from "So You Want to do a Thru-hike?" is about a rule that I made for myself when I am out on a hike.
Here I share a mental exercise that I do to remind myself of how intimately I am connected to nature. From a talk entitled: Trekking With Intent, Presence, and Purpose
Here are some more clips that will give you a sampling of some of the other topics that I talk about:
Artist-In-Residence Programs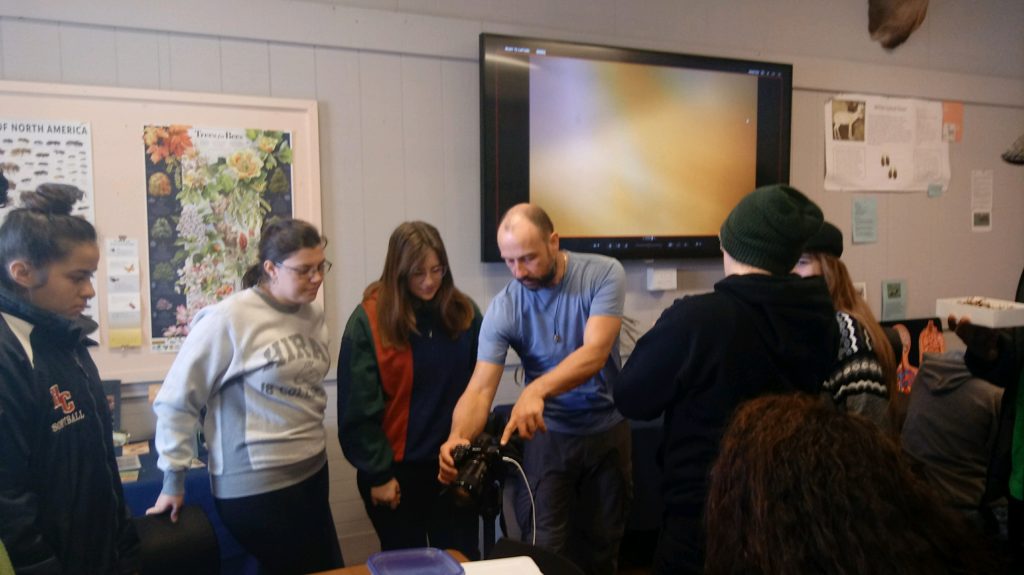 During the 2018 three-week term at Hiram College (OH) I served as an "Artist and Adventurer-in-Residence." My days were filled with all sorts of activities: assisting full-time professors with their class discussions and projects; meeting with environmentally oriented clubs and organizations about the kinds of activities they might sponsor; speaking with student government about the joys and challenges of taking calculated risks and getting outside of personal comfort zones; teaching interns at the biological field station how to use a state-of-the-art camera (Sony A7III) and more. What a great adventure it was…for the students, faculty, staff, and me!
I would thoroughly enjoy leading and participating in similar programs or activities at your college, university, or organization. If you don't have an artist-in-residency program, per se, I would be happy to co-create with you a customized one, geared exactly to your interests and intended outcomes.
Whether you bring me in for a short overnight or ask me to be a part of a longer program, I will make myself a part of your community. I have a natural inclination to engage with people I've just met, to become a part of a community that hosts me, and to give back and pay forward the joys I have experienced on the thousands of miles I have hiked.
By way of example, here are some highlights of my activities during the three week program at Hiram College:
Joined Dr Sarah Mabey's Climate Change class as an assistant who helped students create, compile, and display the final photo essay projects which were required for the course
Designed and delivered a macro-photography workshop for Dr Jennifer Clark's Insects and Society class

Led day hikes for students, staff, and faculty

Hosted club lunch meetings with the Integrative Exercise Science Club and Environmental Action Crew

Completed a commissioned photo shoot of campus buildings

Judged a photo captioning contest

Delivered a series of public Talks and Workshops

:

"So You Want to Do a Thru-hike?"

"Photos that Evoke, Inspire, and Make you Pause: Practicing and Experiencing Mindful Photography"

"Mindful Tech on Mindful Treks"

"Trekking with Intent, Presence, and Purpose"

Group Lessons on Mindful Photography

Small group workshops introducing people to using interchangeable lens camera systems
Photography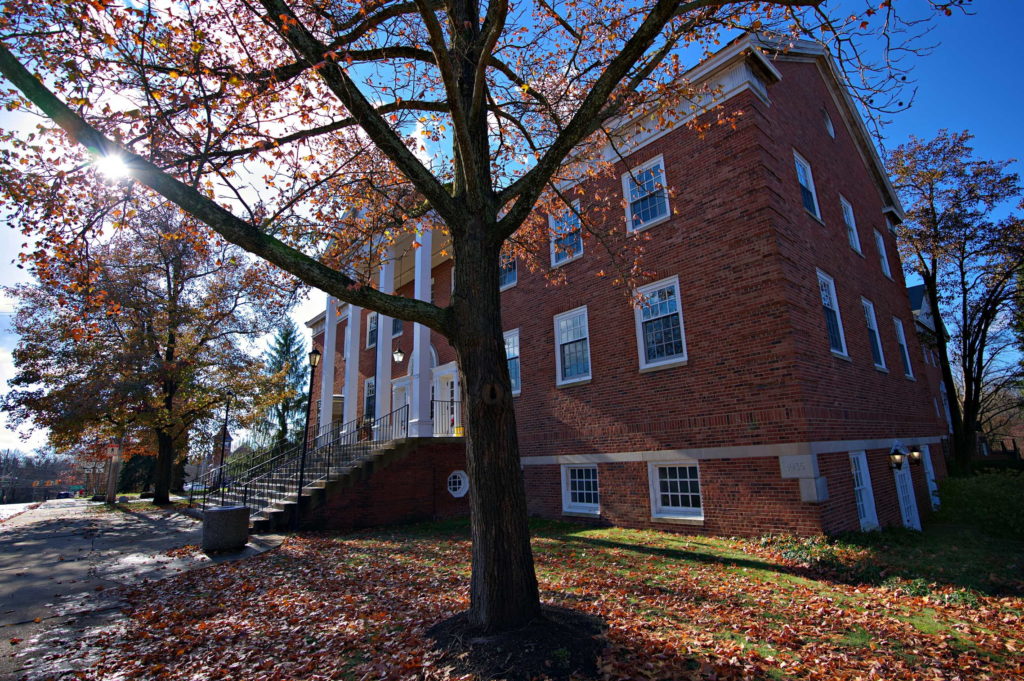 I photograph my adventures to share a small taste of the abundant beauty that nature and our planet have to offer. Additionally, I do customized commissioned photo shoots.
Gallery of Pacific Crest Trail Photos
Gallery of Appalachian Trail Photos
Gallery of Continental Divide Trail Photos
Outdoor Guide and Consultation Services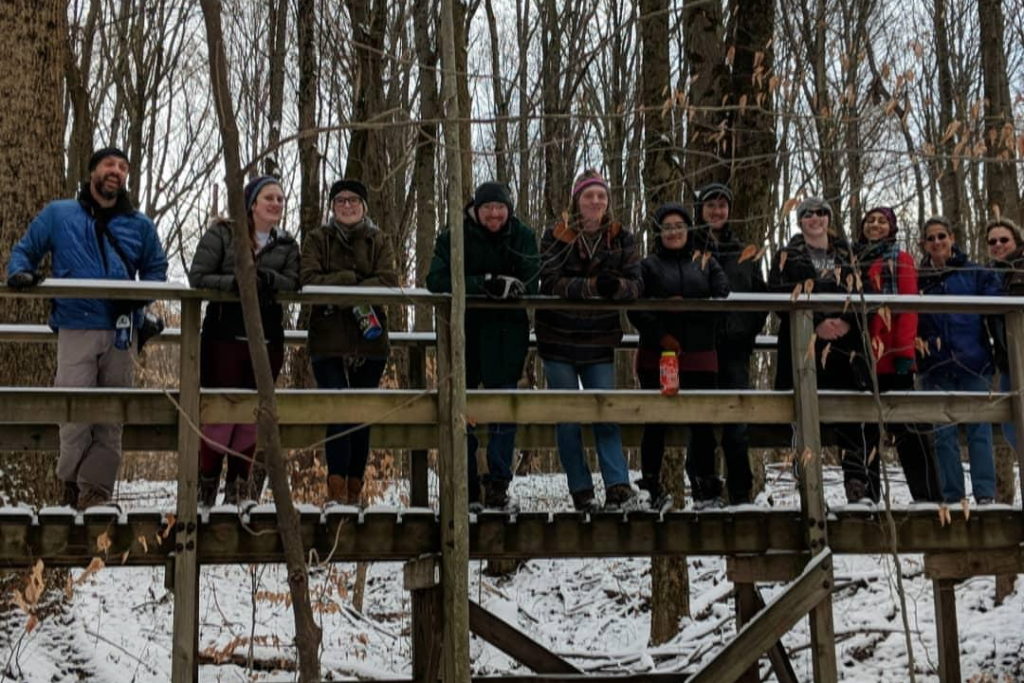 Could your organization or club use some help planning an outing? I can help you get outside for adventures small and large with guide services as well as training and consultation on your options for types of hikes and equipment needs.
Links to some things I've been involved with
Personality Hacker is a company specializing in personal development programs and models. In episode 254 of their weekly podcast they interviewed me about my personal growth path and challenging my inner narratives.
I spent three weeks at Hiram College as "Artist and Adventurer-In-Residence."
Here is an article written by Hiram Senior, Danni Lynn McDonald, where she shares her own reflections and response to one of the talks I gave there.
Reflections and Practice of Mindful Photography
Tech and Trek Interview